Duty Doctor
Experience: 4+ Years
Qualification: BAMS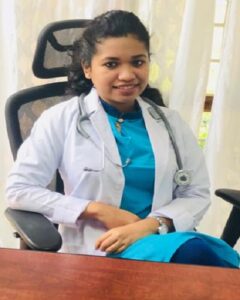 CONSULTATION TIMINGS
MON-FRI, 9AM to 5PM
SAT, 10AM to 3PM

Area of Expertise
Focused areas of treatment include:
Lifestyle disorders (like Diabetes, Obesity, High blood pressure etc.) 

Arthritis (OA, RA, Gout) 

Pain management 

Spondylosis (Cervical, Thoracic, Lumbar) 

Digestive disorders (Anorexia, Gastritis, IBS, Hemorrhoids acidity)

PCOD and other menstrual disorders

Respiratory disease like asthma and allergic rhinitis 

Skin disorders like Psoriasis, Hair fall and Acne 

Geriatric care 

Sleeping disorders
Additional Qualifications
Allied certification for improving clinical and education skills
Overview
Dr. Mahima Rahman has 4+ years of experience in clinical ayurvedic field with 1-year experience in an allopathic hospital. Her focused areas of treatment include Diabetes, Arthritis, Spondylosis, Psoriasis, PCOD, menstrual disorders, acid peptic disorders, lifestyle disorders and metabolic disorder, Bronchial asthma, weight loss and detoxification and has given patient satisfactory results implemented through genuine principles of Ayurveda.
She has conducted classes, workshops, counselling services and dietary advises for prevention and cure for renowned IT companies and schools.
Previous Experience
Sri Kalabyraveshwara Swamy Ayurvedic Medical college hospital

Kottakal Arya Vaidya sala clinic (Nagarbhavi)

Kurias Earth Ayurveda Multispecialty Hospital.

Vedica Wellness Center