Clinical Registrar
Experience: 17+ Years
Qualification: PhD, MS, BAMS, VSF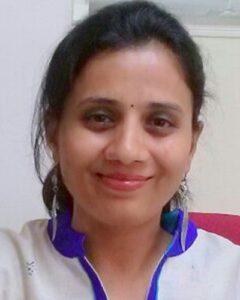 CONSULTATION TIMINGS
MON to FRI, 9AM to 5PM
SAT, 10AM to 4PM
SUN, 10AM to 4PM (Once a Month)
Area of Expertise
Ano-rectal conditions (Constipation, fissure, piles, fistula, anal abscess, pilonidal sinus, polyps, warts, prolapse, lumps etc.)

Non-healing wounds and gangrene conditions 

Peripheral vascular diseases (venous and arterial insufficiencies like Varicose veins, DVT, Atherosclerosis, Raynaud's and Burger's disease, vasculitis etc)

General surgery – Gal bladder stones, peptic ulcers, Hernia, hydrocele, varicocele, phymosis, para phymosis, appendicitis, Thyroid, lymphadenitis, Benign growths like Cysts, polyps, warts, corn etc

Orthopaedics & Sports injuries (Fractures and dislocations, Ligament, tendon and meniscal injuries, sprains, Inflammatory and degenerative arthritis, Vertebral disc




prolapse, Sciatica)

Urinary tract disorders (Kidney stones, infections, impaired kidney functions, BPH etc) 

Inflammatory conditions like Abscess and cellulitis
Overview
Dr. Neelambika is an Ayurveda surgeon, Unit Head at I-AIM with around 17 years of extensive clinical and research experience working at various teaching institutes and hospitals as well as research organizations.
She is an Integrative medicine specialist with special emphasis on Management of Surgical conditions through Ayurvedic approach and makes the best use of conventional clinical and diagnostic evaluations for the diagnosis and outcomes assessment. At I-AIM, she is known for her expertise in management of ano-rectal conditions with almost nil or least recurrence, reversal of wide range of gangrene and non -healing ulcers, non-invasive classical management of varicose veins, non-surgical management of sports injuries and IVDPs. She has been successfully treating complicated UTIs and kidney stones for many years.
She has completed her PhD in Ayurveda at the National Institute of Ayurveda, Jaipur. She has been involved in several national and international research projects at NIA Jaipur and I-AIM Bangalore, focusing on Women Health (Post-menopausal osteoporosis, Anemia, Urinary Tract Infections), and community health initiatives (purification of drinking water through copper device) – based on traditional Indian medical knowledge.
She was the awardee of Vaidya-Scientist by TDU, sponsored by Dept. of AYUSH which demonstrates her ability as a clinician and a researcher. She is trained in Good Clinical Practices (GCP) and Ethical Clinical Practices which is evident in her day today clinical practice.
Publications
Neelambika GB, Vikram Balu, Miracle Rashel Rego, Chandrakanth Kesari. 

Integrative approach for diabetic foot management – a case report,

 J Ayurveda Integr Med (2018), https://doi.org/10.1016/j.jaim.2018.06.009 
Neelambika GB, Sanker V, Das N, Gangadharan GG, Venkatasubramaniam, P. (2014). A Survey of Knowledge, Attitude and Practices (KAP) related to Iron Deficiency Anaemia among 

Ayurveda

 Practitioners in India.

 Global Public Health Conference 2014 (GPH-Con), Chennai.