Consultant
Experience: 38+ Years
Qualification: MD, BAMS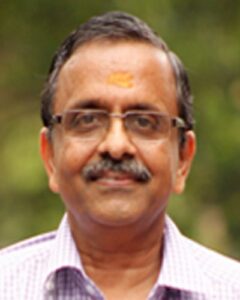 Area of Expertise
Experience of managing conditions in fields of
Musculoskeletal (including Arthritis spectrum),

Neuro degenerative diseases

Cardiac diseases.
Overview
Dr. Vasudevan Nampoothiri has more than 38 years of Clinical and Teaching experience. He has treated more than 12000 patients. 
Highlights of his clinical competence:
Reversed diabetic gangrene cases avoiding amputation
Avoided liver transplant in cases of cirrhosis of liver
Secondary prevention of heart attack
Relived pain in chronic arthritis patients with deformities
Arrested progression and improved quality of life in cases of Parkinsons and Motor Neuron Disease.
Clinical Positions and Achievements
Served as Superintendent, Government Ayurveda College, Trivandrum
Served as Principal, Government Ayurveda College, Trivandrum
Currently working as Principal, Amrita School of Ayurveda, Coimbatore
Received Good Service Entry, from Government of Kerala
Clinical Positions and Achievements
Authored two books on Ayurveda, out of which one is a text for post graduate study.
Published article on "Ayurvedic management of cirrhotic ascites"
(Link: https://goo.gl/QsXVn5 )