Medical Officer
Experience: 10+ Years
Qualification: MS, BAMS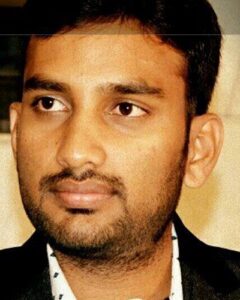 CONSULTATION TIMINGS
TUE, THU, FRI, 9AM to 5PM
Additional Specialization
Specialized in Para-Surgical procedures like Agnikarma, Raktamokshana (Siravyadha), Jalauka (Leech therapy), Kshara sutra and Ksharalepa
Area of Expertise
Ano-rectal conditions like piles, fistula, and fissure

Orthopedics & Sports injuries like fractures, disc prolapse, joint disorders and ligament injuries

Peripheral vascular conditions like varicose veins, vascular insufficiency, diabetic vasculopathy

Non healing ulcers like varicose ulcers, diabetic foot

Urinary tract conditions like kidney stones, impaired renal functions, prostate enlargement, hydrocele, phimosis and paraphimosis

Other surgical conditions like cystic swellings, lipomas, moles, warts, corns etc.
Overview
Dr. Vikram Balu has more than 10 years of clinical experience and is currently serving as a Medical Officer in the Department of Shalyatantra at I-AIM since 2015.. His area of focus includes surgery and para-surgery (Shalyatantra).
He has successfully treated many patients with non healing ulcers, fistula in-ano, piles, varicose veins and other surgical related conditions. He has also successfully treated patients with fistula in Ano with Ksharasootra procedure.
Dr. Vikram has been part of the a team developing protocols for Whole Systems Ayurveda management of chronic Urinary Tract Infections in women. His team has also worked on integrative management of wounds including diabetic wounds.
Previous Experience
Consulting Ayurvedic Surgeon, at various reputed Ayurvedic and Allopathic Hospitals in Bangalore.