Medical Officer
Experience: 30+ Years
Qualification: BAMS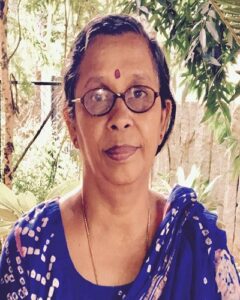 CONSULTATION TIMINGS
TUE, 10:30AM to 12:30PM
Area of Expertise
Female and male infertility

Menstrual Irregularities – including

Amenorrhea (no menstruation)

Dysmenorrhea (painful menstruation)

Menorrhagia, Metrorrhagia (Heavy menstrual flow)

DUB (Dysfunctional Uterine Bleeding)

Premenstrual syndrome, Post-menopausal syndrome

PCOS

Endometriosis

Uterine fibroid, Uterine polyp

Infections like – Cervicitis, Vaginitis, Pelvic Inflammatory Disease, Urinary Tract Infection

Pregnancy care and postnatal care

Uterine prolapse

Hypothyroidism

Obesity due to hormonal imbalance

Menopause and related diseases
Overview
Dr Flavia graduated from the SDM College of Ayurveda Udupi in the year 1985. She has over 30 years of clinical experience. In the initial years she has practiced in rural settings using Ayurveda and Yoga techniques, conducted deliveries and treated women with suffering from various gynecology problems. She currently practices at I-AIM.
She has successfully treated patients with PCOD, infertility, amenorrhoea, dysmenorrhoea, and leucorrhoea. She has advised many women for pre-pregnancy planning,   pre-connectional care and post pregnancy with regard to diet, lifestyle, medications  and specially advised Ayurveda Therapies based classical Ayurveda.
Integrative approaches using Ayurveda, Yoga, diet, lifestyle, internal medication and Panchakarma (Detox and rejuvunative) therapies have shown to have positive and very encouraging outcomes.
She has conducted classes for the students of the Panchakarma training course as well.