Senior Allopathic Consultant
Experience: 30+ Years
Qualification: MBBS, D.Ac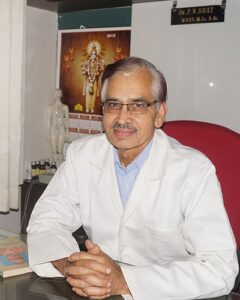 CONSULTATION TIMINGS
MON to FRI, 10AM to 3:30PM
SAT, 10AM to 3PM
Area of Expertise
General Medicine
Gastro intestinal disorders
Liver disorders
Musculoskeletal
Neuro degenerative
Cardiac diseases
Respiratory disorders
Skin disorders
Metabolic disorders
Endocrine disorders, etc.
Overview
Dr. Bhat has more than 30 years of clinical experience, with Specialized Training in Acupuncture. He is part of the I-AIM team as Sr. Allopathic Consultant and Consultant in Acupuncture Therapy.
He has consulted over 10000 patients in his career. He has successfully reversed conditions like migraine,  and managing pain through Acupuncture Therapy in many diseases.
Previous Experience
Consultant and Medical Officer, CRPF Hospital.