Clinical Registrar
Experience: 23+ Years
Qualification: MD, BAMS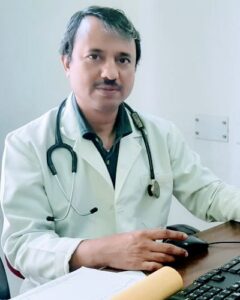 CONSULTATION TIMINGS
MON to FRI, 9AM to 5PM
SAT, 10AM to 3PM
Area of Expertise
Geriatric problems – Various kinds of arthritis,  Neuromusculoskeletal cases
Parkinsonism, Motor Neuron Disease,
Demyelinating diseases – Transverse Myelitis, MS, Neuropathies
Vascular Conditions – Phlebitis, Arteritis Vasculitis,  Varicose veins
Liver cirrhosis
Rare conditions  like Subacute Sclerosing, Pan encephalitis (SSPE), Interstitial lung disease (ILD),  Idiopathic Thrombocytopenic Purpura (ITP) ,  Myotonia dystrophica,  Hidradenitis Suppurativa (HS)
Overview
Dr Prashanth is a senior physician and practicing Ayurveda since more than 23 years and serving as senior clinical registrar in jarachikitsa (geriatrics) unit of I-AIM since 7 years. 
He has completed his master degree in Basic principles of Ayurveda (Samhita siddhanta) from one of the prestigious colleges of Ayurveda in Trivandrum.  Dr Prashanth judiciously integrates and interprets traditional Ayurveda concepts along with modern scientific knowledge. He believes in psychotherapy (Satvavajaya chikitsa) along with Ayurveda therapies. Through this approach he has cured various conditions of neurological and musculoskeletal cases. 
Dr Prashanth has improved quality of life of patients to a greater extent in cases of paralysis/ stroke, Parkinsonism, liver cirrhosis, Rheumatoid arthritis and other varieties of vata vyadhi  (diseases of vata~ neurological, musculoskeletal conditions) specially in geriatric population. 
Dr Prashanth has successfully treated various challenging cases like Baker's Muscular dystrophy, Atonic bladder syndrome, Tuberculoma of brain, TAO with gangrene. He has treated various convulsive disorders, Stroke condition (both ischemia and haemorrhagic that includes few thalamic bleeding cases) with positive outcome. 
He has successfully treated several cases of auto immune conditions  (Psoriasis, GB syndrome, IBS and IBD)
He is a specialist in geriatric care and in Rasayana (rejuvenation) Chikitsa [Treatment], which aims at Promoting health, improves strength and immunity.
Previous Experience
Prof and HOD, Dept. of Siddhanta and Samhita
Deputy Medical Superintendent
Medical Superintendent