Medical Officer
Experience: 10+ Years
Qualification: MS, BAMS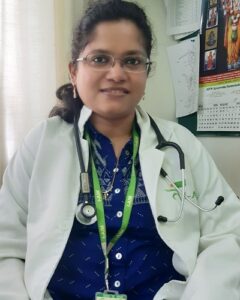 CONSULTATION TIMINGS
MON to FRI, 9AM to 5PM
SAT, 10AM to 4PM
Additional Specialization
Specialized in Para-Surgical procedures like Agnikarma, Raktamokshana (Siravyadha), Jalauka (Leech therapy), and Ksharasutra.
Area of Expertise
Anorectal conditions (Abscess, piles, fistula , fissures, polyps)

Urinary conditions- UTI, Renal calculi, BPH etc

Wounds and ulcers- ( non-healing wounds, Diabetic foot, Venous ulcers, gangrene, arterial ulcers, Neurogenic ulcers etc)

Peripheral Vascular Conditions ( Varicose veins, Vascular insufficiency, TAO etc)

Infective conditions –( abscess, cellulitis etc)

Orthopaedic and sports injuries ( fractures, Ligament injuries, Disc Prolapse, Joint disorders, AVN etc)

Surgical conditions like GB calculi, Hernia, Hydrocoele, duodenal ulcers etc

Swellings and Benign Growths (cystic growths, lipomas, warts, corns, moles etc.
Overview
Dr. Rashel Miracle Rego has more than 10 yrs. of clinical experience in the Surgical field managing cases with an integrative approach. She is currently working as a Medical Officer in the Shalya Tantra department at I-AIM, and is also the Coordinator for the in house 'Ayurvedic nurses training program' to improve quality of nursing care in Ayurveda. She is an active member of NABH team contributing to the overall improvement in quality and standards of the hospital.
She has successfully managed a wide range of Ano-rectal conditions using Parasurgical techniques like Ksharasootra. She has treated several gangrenous and non-healing wounds with a unique, integrated approach. Several cases of complicated varicose veins, sports injuries and orthopedic conditions like ligament tear; slip disc issues, sciatica, joint disorders, meniscal injuries, and renal calculi have been managed without having to undergo surgeries.
She has played a major role (as coordinator and investigator) in the research project conducted on 'Ayurvedic management of Urinary Tract Infections (UTI) in females.
Previous Experience
Consulting Ayurvedic Surgeon, at various reputed Ayurvedic and Allopathic Hospitals in Udupi and Bangalore.