Medical Officer
Experience: 11+ Years
Qualification: BAMS, CRAV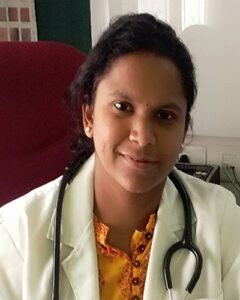 CONSULTATION TIMINGS
MON to FRI, 9AM to 5PM
SAT, 10AM to 4PM
1 SUN PER MONTH
(Prior Appointment Reqd.)
Area of Expertise
General and cosmetic skin conditions like

Allergies, Warts, Acne,

Pruritis, scars and skin infections

Pigmentation disorders,

Diffuse hairfall, Dandruff.

Auto immune skin conditions like

Psoriasis, Lichen planus,

Atopic Dermatitis, Eczema, Vitiligo,

Phemphigus Vulgaris,Alopecia etc
Chronic skin conditions like

Fungal infections,

Herpes, Urticaria,

Seborrhic Dermatitis, Abcess etc
Overview
Dr. Sahana has more than 11 yrs. of clinical experience in managing dermatological cases with an integrative approach. She is also an active member of the NABH team contributing to the overall improvement in quality and standards of the hospital.
She has successfully managed many auto immune skin conditions which are chronic and long standing in nature like psoriasis, vitiligo, atopic dermatitis, lichen planus, and eczema with the Ayurveda panchakarma (detox and rejuvenation) therapies. Treatments with appropriately designed and customized panchakarma therapies, internal medications, diet advice, yoga, and lifestyle changes have been found to greatly enhance outcomes. Other conditions like diffuse hair fall, dandruff, acne, and alopecia are well managed with internal and External therapies including traditional bloodletting procedures (leech therapy).
She has conducted classes for the students of the Panchakarma training course as well.
Previous Experience
She has worked at various reputed Ayurvedic Clinics, Hospitals and Allopathy Hospitals in Bangalore.