Medical Officer
Experience: 10+ Years
Qualification: MS (Shalakya), BAMS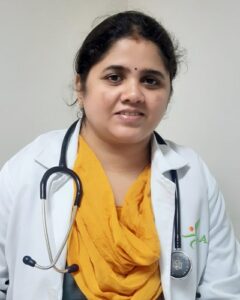 CONSULTATION TIMINGS
MON, THU, FRI, 9AM to 5PM
TUE, 9AM to 4PM
SAT, 8AM to 4PM
1 SUN each month
Area of Expertise
Adnexa of eye
Refractive error
Dry Eyes syndrome
Inflammatory conditions of eye
Retinal disorder
Squint
Ear problems
Sinusitis
DNS
Throat infections
Overview
Dr Shobha has done her MD in Shalakya (Ophthalmology and ENT) and is working as Medical officer at IAIM since 2 years. She has clinical experience of around 11 years managing various conditions in Ayurveda.
Dr Shoba has treated various diseases of eyes and has improved cases of computer vision syndrome/dry eyes, diabetic retinopathy, inflammatory conditions of eyes macular degeneration etc. She has published various research papers in peer reviewed scientific journals.
Publications
A Clinical study on effect of Nārikelādi Rasakriya Anjana in Arma

 – ISSN: 2395-4159 Research Article, www.aamj.in

Shishupriya being netramrita

– IJPAR | Vol.6 | Issue 3 | July – Sep -2017 Journal Home page: www.ijpar.com

Netra Pratisarana – Effective result with a simple procedure

 – ISSN 2456-3110 Vol. 2 Issue 5, Sept- Oct2017 www. Jaims.in

A comparative clinical study on the efficacy of pratisarana with triphaladi rasakriya and ela choorna after darvi seka in the management of krimi granthi w.s.r. to Blepharitis

 – International Journal of Current Research Vol. 10, Issue, 06, pp.70560-70564, June, 2018

A clinical study on efficacy of ela churna pratisarana in the management of blepharitis

. wjpls, 2018, Vol. 4, Issue 8, 131-134 www.wjpls.org
Previous Experience
Consultant, Nandavanam Healthcare Center, New Delhi
DS Cancer Research Center
AyurVAID Hospital, Bangalore.