Diet for Diabetes
Comments Off

on Diet for Diabetes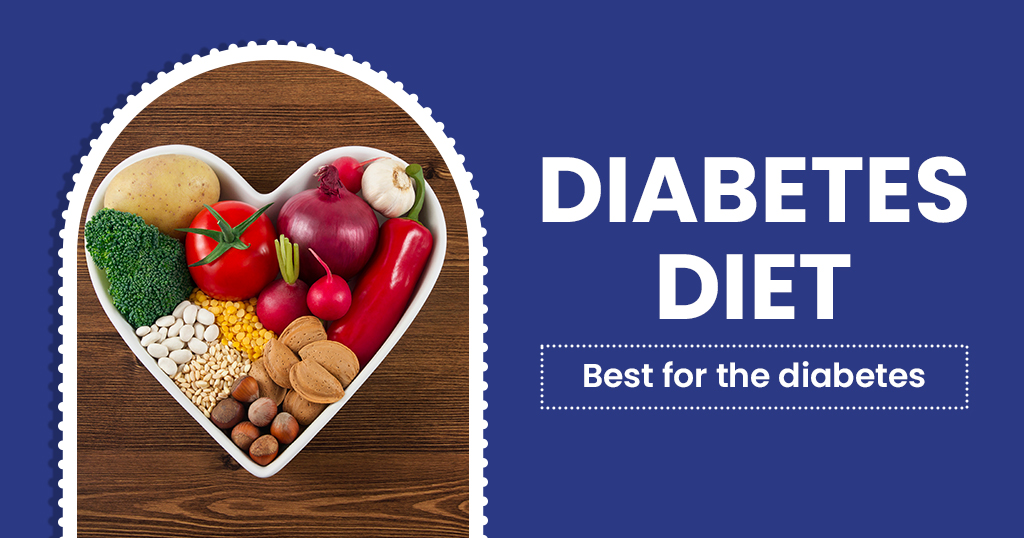 For diabetics, a healthy diabetes diet is the essence to healthy living along with exercise.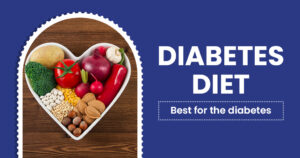 Diabetic Diet meal plans
Eating regimented meals that contain wholesome meals thrice a day is very beneficial. The meal plan is based on 60% calories from carbohydrates, 20% from proteins, 10% from fats or oils and 10% portions of fruits and vegetables per day.
Sample Menu
After wake up: A glass of lukewarm water followed by 4 almonds (soak 6-8 hrs.) + 2 walnuts + Methi 1 spoon (soaked 12 hours) + juice (bitter gourd (karela)/ Indian gooseberry (amla) / cucumber / tomato)
Breakfast: Any small quantity of cereal based snacks (Rice flour / Moong dal flour / Ragi flour / Jowar flour / combination of any of these flours) with fresh fat free milk
Mid-morning: fruits in small quantity + soup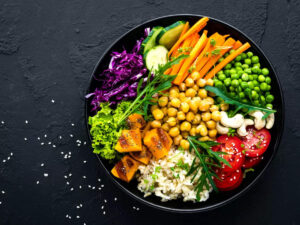 Lunch: A large bowl of salad made up of all the raw vegetables in season. The salad may be followed by a whole meal   like Rice/ roti / phulka / chapati (red rice, barley, moong dal, ragi, millet, combination of any of these) + lightly cooked vegetables + a glass of butter-milk
Mid-afternoon: A glass of fresh fruit or vegetable juice
Dinner: A large bowl of salad made up of all the raw or steamed form vegetables in season. The salad may be followed by a whole meal like roti / phulka / chapati (red rice, barley, moong dal, ragi, millet, combination of any of these) + lightly cooked vegetables sabzi
Bedtime Snack: A glass of fresh milk
Recommended foods
Instructions
Grains like red rice, wheat, barley, sooji, oatmeal, millet, barley
Use old grains
Cereal and pulses like green gram, horse gram, ground nut, lentil, Bengal gram (chick pea), and split green gram.
 
Green leafy Vegetable like Amaranthus, Spinach, fenugreek leaves, mint.
Always eat fresh Green leafy Vegetable
Vegetable like Snake gourd, Bottle gourd, onion, knol-knol, bitter gourd, Green Pumpkin, Ridge gourd, snake gourd, ivy gourd. Drum sticks, tomato, cucumber, broccoli, cabbage, cauliflower.
Always eat fresh Vegetable
Fruits like Pomegranate, Sweet Lime, Apple, Pear, Orange, Papaya, Jamun, Guava, Water melon, Musk melon, Amla (Indian Gooseberry), black plum, peaches, pears,  kiwi, berries, cranberry, avocados, kokum fruit, wood apple.
Always eat fresh fruits

Do not eat mixture of milk and fruits like fruit salad, milkshake, ice-cream, etc.

Do not eat fruits immediately after meals

Dry fruits like Almonds, Brazil nuts, Hazelnuts, Pistachios, Walnuts, Indian fig, dried apricots, raisins.
Do not eat dry fruits immediately after meals
Chia seeds, Flax seeds, pumpkin seeds, sunflower seeds, lily seeds, Lotus seeds  Turmeric, cinnamon, mustard, coriander  pepper, asafoetida, Fenugreek, ginger, garlic, cumin seeds, curry leaves
Diabetic Friendly Recipes
Triphala Rice 
Ingredients
Red rice -75 gm
Water-150 ml
Triphala churna- 1 spoon
Soak red rice overnight. Add 1 tsf. of Triphala churna to 150 ml water add rice. Cook rice next day. Serve hot
Methi Roti
Ingredients
Multigrains flour/ millets flour
Methi leaves, chopped-2 Nos.
1 bitter gourd, grated
Chopped coriander leaves-2 tbsp
cumin seeds -1 tsp
salt-as required
Ghee
Mix all the ingredients thoroughly and make stiff dough by adding just enough water. Sieve the flour with the salt, knead the dough and make small balls. Roll out each ball of about 150 mm diameter with the help of flour. Cook on a hot tawa on both sides using a little ghee until pink spots come on top. Serve hot.
 Barley Dosa
Ingredients:
2 cups – Barley
1 cup – idly rava
2 tbsp – Whole black gram without skin
1/4 tsp – Fenugreek seeds
Salt as needed
Wash and soak barley and whole black gram along with fenugreek seeds each separately for 6 hours or overnight. Soak idly rava for half an hour. Grind barley along with whole black gram and fenugreek seeds in a mixture grinder to a smooth batter. Finally add soaked idly rava and once again grind them to a dosa batter consistency. Add enough salt and mix well. Heat a tawa, take a ladle full of batter and spread it like normal dosa, cook both sides till golden brown. Serve hot
Millet Upma Recipe
Ingredients
1 cup Millet
1 Onion
1/4 cup carrot, beans chopped
1/2 teaspoon mustard seeds
5-6 curry leaves, finely chopped
1 teaspoon ginger, grated
2 green chilies, finely chopped
1/4 teaspoon turmeric powder
1 teaspoon cooking oil
2 tablespoons coriander leaves, chopped
Salt to taste
Heat oil in a medium size saucepan on medium heat; add millet and roast till it changes its colour, and keep aside. Same pan add oil in a medium size saucepan on medium heat; add mustard seeds and allow them to crackle. Add the chopped onions and curry leaves and sauté until the onions are tender and the color changes to light brown. Add turmeric powder, green chilies, ginger, millet and salt. Stir for about a minute on medium heat until you get a roasted aroma of the roasted millet and add all chopped vegetables and fry for a minute. Add 2 cups of boiling water to the above mixture and cover the pan with a lid. Turn the heat to low and simmer for about 15 minutes until all the water has been absorbed by the millet. Once done turn off the heat and allow the mixture to sit for 5 minutes. Add coriander leaves and mix well. Serve hot.
Sattu Drink
Ingredients:
Sattu (ground gram)
Wash the sattu and dry under sun, roast the gram (chana) in a pan, allow it to cool, and then finely grind the roasted chana with the help of a grinder. Add 1 spoon of sattu powder to 100 ml of boiled butter milk
Boiled Butter Milk
Ingredients
Curd- 100ml
Water- 600ml
1 pinch asafoetida (hing)
1/2 inch ginger
1 tsp mustard seeds
Methi seeds
Cumin seeds
Curry leaves
1Salt as required
1/2 tsp turmeric
2 tbsp oil
Mix curd and water and extract thick butter. Heat oil in the pan.  Crackle the mustard seeds first. Add curry leaves, hing, ginger, cumin, methi and fry it. Then add water and boil.  After boiling allow it to cool, once it is cooled add thick butter, filter and serve.
Some Tips
One teaspoon of methi seeds soaked overnight in 100 ml of water is very effective in controlling diabetes.
Drink tomato juice with salt and pepper ever morning on an empty stomach.
Intake of 6 almonds (soaked overnight) is also helpful in keeping a check on diabetes.
Follow healthy lifestyle and seasonal diet
Use complete(wholesome) meal
Do not eat too slow or too fast
Always take fresh foods
Every day go for exercise, walking, and sun exposure.
Avoid day sleep, sedentary life, controlling the urges, sitting in water for long time.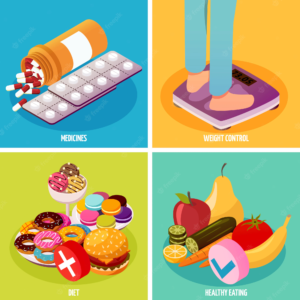 Avoid the following
Avoid products of besan, maida like bread, biscuits, cake etc.
Avoid spicy and fried food.
Avoid products that have mixture of milk and fruits like fruit salad, milkshake, ice-cream, etc.
Avoid fruits like pineapple, grapes, mango, chickoo (sapota), grapes, sweet potato, and potato.
Avoid sweet, sour, and salty foods like tamarind, ripened banana, cold drinks, potatoes, sweet potatoes, colocasia (taro), yams, fresh grains and pulses (legumes), whole yogurt (high in fat), and heavy, oily and spicy foods.
Avoid artificial sweeteners, jams, jellies and syrups, sugar-free candies, gelatins.
Avoid dairy products.
How Bananas Affect Diabetes and Blood Sugar Levels?
Bananas contain carbohydrates, which raise blood sugar. A medium-sized banana provides 105 calories. Out of that 90% of the calories come from carbohydrates. These carbohydrates are in the form of, sugars: sucrose, glucose and fructose, fiber, some essential nutrients and antioxidants. These high levels of carbohydrates cause blood sugar levels to rise more than other nutrients.
However, bananas also contain fiber, which may reduce blood sugar spikes. A medium-sized banana contains 3 grams of fiber, fiber helps to slow the digestion and absorption of carbohydrates, and this helps to reduce blood glucose levels.
Can Diabetes be reversed with diet control or is medication required?
A low-calorie diet can reverse type 2 diabetes. The disease can be reversed by restricted diet, dietary modifications, weight loss and following healthy life style.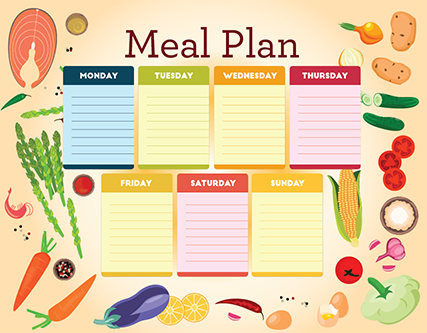 Remember, a balanced and planned diet can build and improve personal health. A controlled diabetes diet may seem like a drag and bore, but a good cook can add life to a diet. Time to experiment with diabetes diets!!